The berry lipstick is the perfect blend of red and purple shades, and there can be some brown or pink as an accent. That's why the berry color lipstick is often considered difficult to use and suits with normal makeup. If you love berry color lipstick and are looking for the best for you, these seven lipsticks below should be the best ones to try.
Top 7 berry lipsticks for a gorgeous look
1. 3CE Mood Recipe  Matte Lip Color #909 Smoked Rose
The 3CE is a popular brand from Korea with a diverse best-seller lipstick collection. The 3CE lipstick was loved by many beauty and bloggers worldwide by its quality and affordable price, besides its unique and various colors. In 2017, the 3CE released the 3CE Mood Recipe Matte Lipstick collection, in which the 3CE Smoked Rose lipstick was this version's best-seller dark berry lipstick. 3CE Smoked Rose is a berry red lipstick ideal for night parties and holidays at the end of the year. The smooth and non-drying lipstick is a plus point of this 3CE lipstick.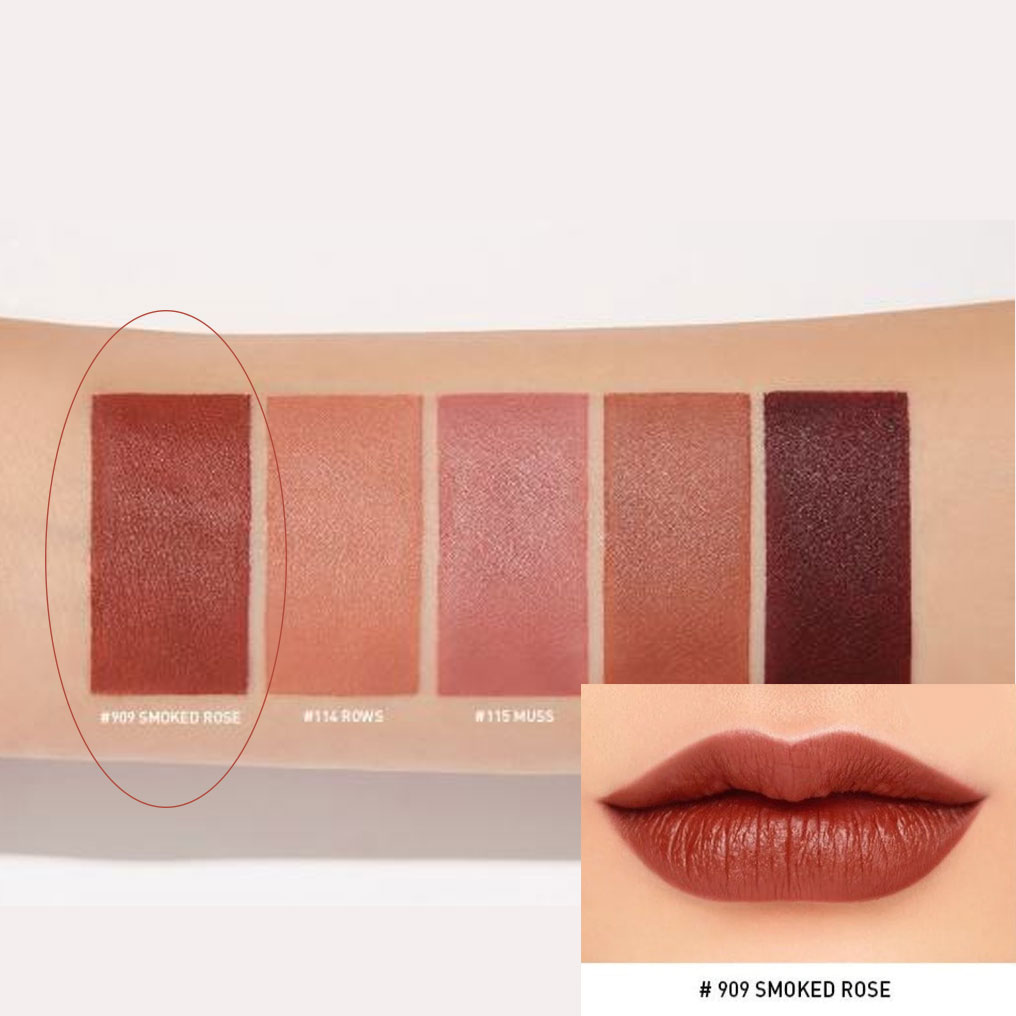 2. MAC Matte Lipstick – Chilli
MAC Chili lipstick is one of the best lipstick shades from the MAC lipstick collection that suits many skin tones and is best for the Fall season. MAC Chili lipstick is so pretty for girls with brown to dark skin tones. The brick-red tone but a little brown, a little orange of MAC Chili is perfect for day and night dating.
3. MAC Rebel Lipstick
Mac Rebel, the desirable purple-pink color that combines youthful, fresh pink, will bring an attractive and gorgeous look. Whether attending a luxurious party, night dating, or hanging out with friends, MAC Rebel will be the best MAC berry lipstick that brings you confidence and stands out.
4. Mac Odyssey Lipstick
Mac's Odyssey is the deep berry lipstick that suits the cold season with warm and attractive deep red, pink and brown shades. The Odyssey MAC lipstick is also very sweet on the lips, making our lips plumper. Not too dark like plum red tone, not too "weird" like plum purple, but still keeping the charm to the lips.
5. MAC Burning Love, a berry mauve lipstick
MAC Burning Love was rated at the top list of berry mauve lipstick with impressive and influential bold lipsticks for cold winter. The berry mauve lipstick – MAC Burning Love possesses a warm, passionate plum purple color that promises to give an extremely impressive appearance in the year-end night parties and the first festival season.
6. Clinique Almost, sheer berry lipstick
Clinique Almost is one of the ten best-selling lipsticks of all time. It seems to be for the autumn of the 90s, yet many girls are still hunting for it today. The Clinique Almost owns a sheer berry lipstick color suitable for all girls, well-moisturized, light on the lips, smooth, and very pigmented. The more layers the layer has, the more attractive and feminine the deep red color is on the lips.
7. NYX Xxtended berry pink lipstick
If you have been a fan of NYX Lingerie, the new generation of NYX Lingerie XXL will be an indispensable product in your lipstick collection. The matte cream line with ultra-thin lipstick is light and comfortable for long-day use. The NYX Xxtended berry pink lipstick is free from animal testing and vegan.