In October 2017, the famous cosmetics brand MAC Cosmetics launched a new line of lipstick named MAC Powder Kiss Lipstick. This lipstick collection from MAC promise to bring softened lips, totally different from the previous version of MAC Retro Matte. The Powder Kiss lipstick MAC is smoothing and soft when applied to the lips. Let's find out more about this MAC Powder Kiss Review in today's topic.
About MAC Brand and MAC Lipstick Powder Kiss Collection
About MAC Brand
MAC has long been famous in the beauty world thanks to quality products, especially lipsticks. As a MAC fan, every girl owns one of her favorite MAC lipsticks before, such as MAC Ruby Woo, Chili, Lady Danger, etc. MAC headquarters is located in New York and has more than hundreds of stores in different countries worldwide. You can easily buy MAC products from their store at every major shopping center.
MAC Powder Kiss launch date: October 2018.
MAC Powder Kiss lipstick packaging
The MAC Powder Kiss Lipstick collection still retains the internationally famous bullet design. Instead of the usual glossy, shiny outer shell, Powder Kiss MAC wore a sexy, glossy black packaging.
MAC Powder Kiss Lipstick all shades
Those who first researched MAC Powder Kiss could sometimes feel confused about the shades and colors of this collection. So, how many shades are there in the MAC Powder Kiss? MAC Powder Kiss includes 16 tones with a reasonably wide color range, ranging from nude gamut with all colors beige and pink to bright colors, easy to use, such as pink, red, and orange, etc.
1. MAC Powder Kiss Lipstick Best of me – Light Beige 
This is probably the most difficult-to-wear color in MAC Powder Kiss Lipstick shades. The MAC Powder Kiss Lipstick – Best of me, is tough to wear alone and without any makeup. This MAC Matte Powder Kiss color, Best of Me is often used to mix with other colors to create a new lipstick color or when using lip liquid to create a smokey ombre effect.
2. MAC Powder Kiss Lipstick Influentially It – Nude Orange Beige
MAC Powder Kiss Lipstick Influentially It is described as a beige nude with a hint of warm color. The MAC Powder Kiss Influentially on the lips is not too clear, revealing the lips after a few minutes of applying lipstick. Although the lipstick is very soft, it will cause dry lips after about 2 to 3 hours of use.
3. MAC Powder Kiss Impulsive – Light-Medium Brown
MAC Impulsive Powder Kiss Lipstick is a mild warm brown with warm undertones. When applying to lips, the powder matte finish is soft and light and does not make your lips dry. The powder finish matte from MAC Impulsive takes about an hour for the lipstick to become more matte. This MAC impulsive powder kiss lipstick is suitable for many skin tones and makeup styles.
4. MAC Powder Kiss Sweet No Sugar – Soft, Pinky Peach
MAC Powder Kiss Sweet No Sugar Lipstick owns a light peach color with warm undertones. The shade of the lipstick is not too good and reveals the lip groove quite clearly when applying it. The lipstick color lasts about two hours; although soft, it shows obvious lip defects.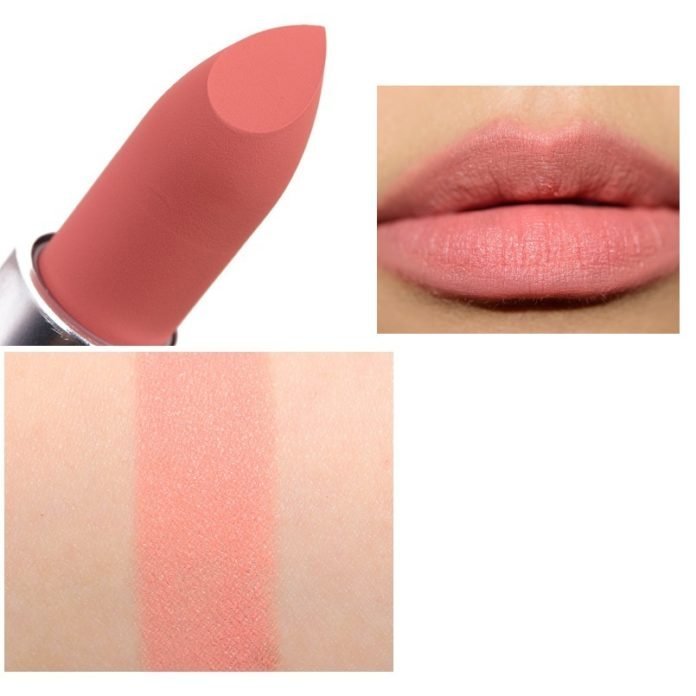 5. MAC Powder Kiss Lipstick Tweedy – Deep peach
The MAC Powder Kiss lipstick My Tweedy has deep orange peach tones with warm undertones and orange color. These nude lip colors will suit girls who love natural makeup styles.
6. MAC Powder Kiss Scattered Petals – Light-Medium Pink
The MAC Scattered Petals Powder Kiss lipstick owns the pastel shade. This lipstick has warm undertones but not shining too much on the lips. It takes several times to apply lipstick to make the color appear clear. The lipstick color also slips off and settles on the lip groove.
7. MAC Powder Kiss Sultriness lipstick – Medium pink
MAC Powder Kiss lipstick Sultriness is a charming pastel color. The lipstick color becomes noticeable after one swatch. With nude shades, you should still apply makeup so as not to tarnish your skin tone.
8. MAC Powder Kiss Mull It Over Lipstick, Medium-dark pink
The MAC powder kiss lipstick 314 Mull it over is probably the must-have lipstick you should consider when thinking about a MAC Powder Kiss Lipstick! Mull It Over has a deep coral tone, suitable for many skin tones and those who love daily natural makeup style.
9. MAC Powder Kiss Devoted To Chili – Brick Red
MAC Powder Kiss lipstick Devoted To Chili is one of the company's best-selling lipsticks by the red chili, which suits many skin tones and brightens your skin, face, and teeth.
10. MAC Powder Kiss lipstick A Little Tamed – Dirty Pink.
MAC A Little Tamed Powder Kiss has a neutral pink tone that is suitable for daily wear in case you do not know what color to wear outside today. The lipstick is so silky smooth, so you can easily stack it in many layers without fear of making plump lips!
11. MAC Powder Kiss Lasting Passion color – Bright red
MAC Powder Kiss Lasting Passion has a cool red tone that brings out skin tones and teeth, giving her glamorous confidence when wearing this intense lipstick color.
12. MAC Powder Kiss Style Shocked Lipstick – Orange-red
MAC Powder Kiss Style Shocked has a lipstick that is no different from its name – pure orange-red shocking. Lip color will make you energetic and attract all eyes.
13. MAC Powder Kiss Fall In Love – bright pink
MAC Powder Kiss Fall In Love is a bright pink like petals, which will make people "Fall In Love" with this color.
14. MAC Powder Kiss Shocking Revelation – Cool Red
MAC cosmetic Powder Kiss Shocking Revelation owns a cool red shade suitable for use in winter, which will make them more charming and mysterious! The fabulous red color of MAC cosmetics Powder Kiss Shocking Revelation will make you the focus of all eyes thanks to the skin and tooth tone effect.
15. MAC Powder Kiss Burning Love – Berry
MAC Burning Love Powder Kiss is the most unique and attractive lipstick color in the entire MAC Powder Kiss collection. The deep red shade of Powder Kiss lipstick MAC Burning Love will make you the focus of autumn and winter this year.
16. MAC Powder Kiss Mandarin O – Coral Pink
MAC Powder Kiss Mandarin O Lipstick is a young, sweet, coral pink tone. This lip color will make young girls a few years older when wearing it daily! However, the downside to brightly colored lipstick is that it is quite a powder, so you should pay attention to exfoliate thoroughly before using lipstick.
MAC Powder Kiss lipstick new shades in 2023
The best-selling MAC Powder Kiss lipsticks are 316 Devoted To Chili, 314 Mull It Over, 308 Mandarin O, 301 A Little Tamed, and 305 Burning Love. These colors are also in the new MAC Powder Kiss lipstick collection, updated last year.