Mac is a famous cosmetic brand in the world from the US. Mac brand is leading as a make up product lines with mid-range prices but the quality is not under those of high-end products.
Summary of MAC lipstick brand
And one of the MAC most interesting makeup products are MAC lipstick. With luxurious design, smooth lipstick and rich palette, Mac lipsticks have captured a lot of attention of beauty believers all over the world.
However, in the hundreds of different lipstick colors from the Mac family's giant collection. Choosing the best lipstick is not easy for you, right? So, please join to list the top 10 mac lipsticks colors which are also the most beautiful Mac color lipstick 2019 in the article below!
Top selling mac lipsticks 2019
MAC pink lipstick – A Little Tamed
MAC lipstick A Little Tamed not also took a lead of 2018 top 10 most beautiful Mac colors. In 2019, it received the vote of the beauty followers to rise to the top 10 mac lipstick colors.
Belonging to the brand new lipstick, Mac A Little Tamed with smooth lipstick like silk, soft lip balm, and pink flower leaves promise to bring you a very sweet, charming and attractive look. Whether it's going to a party, going to school, going out or dating, this pink lipstick is always the perfect lipstick for all girls.
Mac Russian Red – Pure red lipstick
The next of the second position in the top ten mac lipsticks, 2019 is Mac Russian Red. This lipstick of MAC has impressed millions of MAC fans because of the deep red lipstick. Mac Russian Red lipstick will make every girl become luxurious, glamorous and extremely sexy during the night party sparkling lights.
Delivering a charming red color, MAC Devoted To Chili lipstick in the collection of the Mac's latest Powder Kiss is also one of the "brightest candidates" to top the top 10 mac lipstick colors 2019.
Obtaining the advantages of previous products Mac Chili, MAC Devoted To Chili not only impresses millions of lipstick lovers because of the thin, light and soft lipstick but also by the new red bricks. More red, but still makes you look bright in all cases.
This lipstick is the most searched lipstick after name in the cold autumn season or the cold winter. Mac Diva lipstick is impressed by the red lipstick of warm deep wine that gives women a luxurious, charming look. Very charming and extremely modern.
Mac Ruby Woo – Holy red lipstick
When mentioning to the lipstick from Mac brand, it is certain that every lipstick lover cannot forget the name of Mac Ruby Woo. Delivering a classic, sharp, glamorous red lipstick, Mac Ruby Woo has become the lipstick that any girl wants to own in her collection. With this classic red lipstick, you can apply full lips or lips are very beautiful and luxurious.
Mac Relentlessly Red belongs to the ultra-matte Retro Matte lipstick. This is also one of the names in the top 20 mac lipsticks 2019. Mac Relentlessly Red has a sweet, beautiful coral pink color, lovely, it can to bring you a fresh, youthful appearance in any place you come.
Not pale like the pink earth and not as fresh as the bright pink but it is enough to make someone "fall in love" because the sweet pink that Mac Runway Hit can bring. This is one of hot lipstick of the Retro Matte lipstick family. Just make a bit of nude pink on your lips combined with makeup gently, you will be charming, modern and attractive.
If you are a girl who is always conquered by the sweet and feminine pink lipstick, so I'm sure you couldn't ignore the pink strawberry of this Mac On Hold lipstick from MAC Cremesheen lipstick. With pink as the main colors, a little more of the alluring red lipstick blended with lipstick is added – Mac On Hold lipstick is surely the perfect choice for make-style girls. Gentle, transparent up.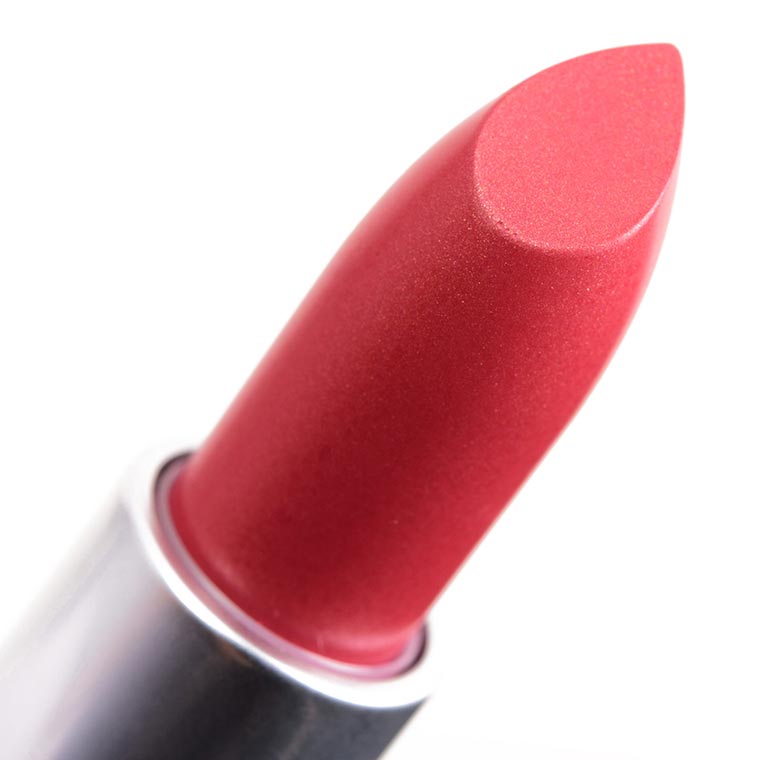 MAC Quelle Surprise – Impressive purple plum
A perfect highlight of the MAC collection lipstick in the holiday season earlier this year, the Mac Quelle Surprise lipstick made the ladies "bending" by the purple and dramatic purple plum.
Despite being a long-standing color, MAC Lipstick Toxic Tale still deserves to be a "great color" representing the lipstick from the top-rated mac lipstick colors
With an elegant and fresh coral orange color blended with smooth satin lipstick, Mac Toxic Tale lipstick will definitely not disappoint you with your full lips and radiant appearance all day long.