Removing dead skin cells is necessary to have clean and healthy skin. For optimal results and absolute safety for the skin, please refer to the following detailed instructions on using BHA OBAGI for all skin types and problems!
About OBAGI Brand
OBAGI Medical is a manufacturing and trading company specializing in skincare products, headquartered in Long Beach, California. OBAGI product systems are designed to assist with the relief of adult skin disorders.
The products in the OBAGI Nuderm system were invented in 1988 by Dr. Zein E. OBAGI and specialists. Dr. OBAGI and his collaborators began manufacturing and selling these products.
The products researched by OBAGI Corporation, born in the US, are applied to advanced production technology with a formula that improves skin dramatically. OBAGI Medical is a famous cosmetic brand to help reduce skin wrinkles, dark spots, melasma, and freckles.
OBAGI's BHA Quality Rating
Packaging
BHA OBAGI Clenziderm MD Pore Therapy 148ml has a round cylindrical bottle design with a push cap. The product, in addition to the outer lid, is equipped with a plastic tap inside. So instead of pouring the product directly onto a cotton pad, place the cotton pad on it and press gently.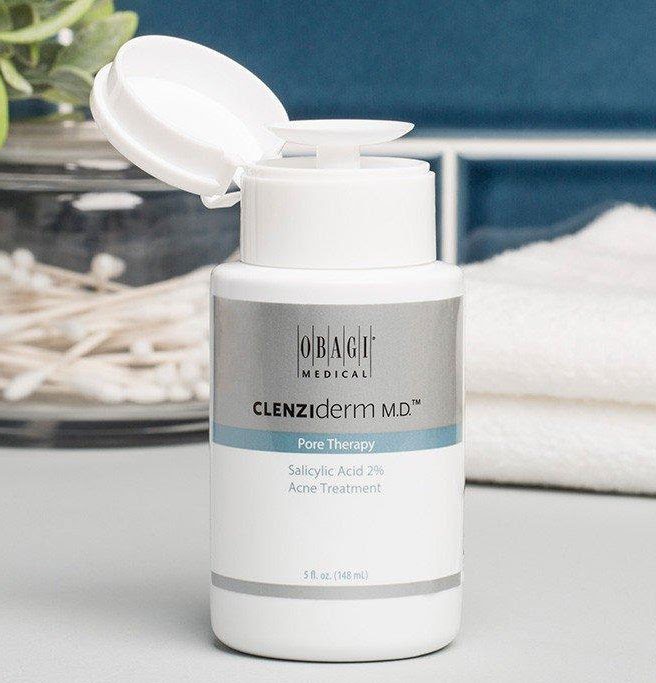 The texture of BHA OBAGI
OBAGI Clenziderm MD Pore Therapy Salicylic Acid 2% is a toner with the same texture as many other toners, liquid and transparent like water, easily absorbed into the skin. Especially when applied, you will feel the skin cool, thanks to the mint essence in the product. Also, BHA OBAGI absorbs quickly and soothes discomfort if your skin is disturbed by inflammatory acne.
Main ingredients of BHA OBAGI
Salicylic Acid 2%: exfoliate, deep clean dirt and sebum in pores, treat acne, anti-inflammatory.
Glycerin: moisturizing, smooth skin. Benzalkonium Chloride: can prevent bacteria and prevent infection.
Menthol (Menthol): astringent, reducing acne blemishes, and antibacterial.
SD Alcohol 40-B (Dry Alcohol): Soluble solvent, making the product more stable.
The product contains fragrance.
BHA OBAGI Benefits
Deep cleansing and exfoliating: The primary use of BHA is to clean deep inside the epidermis and remove and push up the dead cells, dirt, and oil accumulated inside the pores. So BHA OBAGI will help the skin become clean and smooth and limit acne formation.
Helps to shrink pores: BHA OBAGI uses to help minimize pores; the ingredients of BHA OBAGI will penetrate deep inside, removing dead cells and excess oil and controlling the amount of oil on the skin.
Helps to shrink pores: The following use of BHA OBAGI is to help minimize pores; the ingredients of BHA OBAGI will penetrate deep inside, remove dead cells and excess oil, and control the amount of oil on the skin.
Helps the skin absorb nutrients better: BHA OBAGI deep cleans and clears the skin, so when using other products such as serums, creams, etc., it will be better absorbed into the skin, improving its effectiveness and beauty benefits.
Pros and cons of BHA OBAGI
BHA OBAGI, like many other skincare and beauty products, has pros and cons. If you intend to use this product, find out more details in the following BHA OBAGI pros and cons analysis:
Advantages of BHA OBAGI
OBAGI BHA has a brilliant design, easy to store and use.
The product texture is liquid like water, quickly absorbed into the skin, and feels comfortable.
BHA OBAGI has a short ingredient list but is highly effective.
Can effectively improve the condition of acne on the skin.
Enhance acne quickly
In addition, it also tightens pores and smoothes skin
It prevents too much oil, and helps the skin breathe more.
Cons of BHA OBAGI:
At first use, or for those unfamiliar with high concentrations of BHA, there will be a stinging sensation on the skin.
There is a phenomenon of skin dryness and sensitivity to the sun, need to moisturize also use sunscreen carefully
The product contains alcohol, colorants, and fragrances, so make sure you only use it if you are not allergic to these ingredients.
The price of BHA OBAGI is higher than many products on the market.
How to use BHA OBAGI to treat acne properly?
BHA OBAGI will bring optimal skincare effects if you know how to use it; this product cannot be arbitrarily used because the wrong way will lead to the opposite effect affecting the skin. Please refer to the following detailed instructions for using BHA OBAGI:
Step 1: Clean with cleansing oil/makeup remover
Choose makeup remover oil or makeup remover to clean your face; even if you don't wear makeup, use sunscreen and dirt outside that needs to be removed to deep clean.
Step 2: Wash your face with a cleanser
After removing makeup, wash your face with a specialized cleanser to remove makeup, dirt, and excess oil. Then pat dry with a soft cotton towel.
Step 3: Take the BHA OBAGI toner with a cotton pad
Place a cotton pad on the top of the bottle and press to get the required amount of BHA OBAGI toner and wipe it over the face and neck. After wiping, you should use your hands to pat for better absorption.
Step 4: Use serum
After applying BHA, you can continue to use a serum suitable for your skin type and condition, such as moisturizing serum, dark spot serum, anti-aging serum.
Step 5: Use special cream (if any)
You can use a special cream after the serum step if you have skin problems such as acne, scars, or dark spots.
Step 6: Use moisturizer
Moisturizing cream is a crucial step indispensable in a daily skincare routine, especially when using BHA, the skin will be dry, so it needs to be adequately moisturized. Everyone needs to pay special attention to the moisturizing step.
Step 7: Use sunscreen when going out
If you use BHA in the morning after completing your skincare steps, don't forget to use sunscreen and cover your skin carefully.
Important notes when using BHA OBAGI
Dosage of BHA OBAGI
BHA OBAGI has a BHA concentration of 2%, which is relatively high. So if you are a first-time user of BHA, you should choose other products with lower concentrations first.
Using BHA OBAGI is not tricky, but you need to pay attention to the use time. It would help if you only used OBAGI BHA 2-3 times per week at the first use, then gradually increase and stop at 1-2 times per day.
This must depend on each person's skin condition to promote the effect quickly or slowly. If symptoms include burning, itching, redness, and irritation during use, you should stop immediately and consult a doctor for advice.
Should you test BHA OBAGI before using it?
Test the product on a small skin area before using it all over the face. If, after 24 hours, there is no irritation, you can safely use it.
It will feel a bit stinging when you first use it – A stinging sensation is normal, not irritation. This phenomenon will gradually disappear as your skin gets used to the product.
Use full sunscreen daily – Cover carefully and use sunscreen to protect the skin optimally.
Considerations when combining BHA with AHA or retinol – When combining BHA, AHA, or retinol substances, you need to have the guidance of a dermatologist; use the above products every other day, do not use them together because it will cause skin irritation which is very dangerous for the skin.
Compare OBAGI's BHA and Paula's Choice BHAHA
Currently, OBAGI's BHA and Paula's Choice's BHA are the most used and always receive the attention of debate from users worldwide. These are both cosmetic and pharmaceutical brands; the products are highly appreciated for quality and effectiveness. If you are wondering whether to use BHA OBAGI or BHA Paula's Choice, please refer to the following comparison table:
| | | |
| --- | --- | --- |
| Comparison Factor | BHA OBAGI | BHA Paula's Choice |
| Full Product Name | OBAGI Clenziderm MD Pore Therapy Salicylic Acid 2% | Paula's Choice Skin Perfecting 2% BHA Liquid Exfoliant |
| Design | BHA OBAGI design has a short cylindrical body, still the primary white color of OBAGI cosmetics. When opening the cap, you will see the pump nozzle to put the cotton pad. When using, press down on the nozzle to get the toner inside. | BHA Paula's Choice is taller and slimmer. The product is designed with a convenient bump nozzle, also used by putting on a cotton pad and then applying it to the skin. |
| Texture | Liquid like water, transparent light purple color, easily absorbed into the skin | Liquid like water, transparent color, easily absorbed into the skin |
| Main ingredients | Salicylic acid 2%, Benzalkonium Chloride, Benzyl Alcohol, Ethoxydiglycol, Ext. Violet 2 (CI 60730), Fragrance, Glycerin, Menthol, Menthoxypropanediol, Methyl Lactate, SD Alcohol 40-B (Alcohol Denat.), Water (Aqua). | Water, Methylpropanediol, Butylene Glycol, Salicylic Acid, Polysorbate 20, Camellia Oleifera Leaf Extract, Sodium Hydroxide, Tetrasodium EDTA. |
| The level of benign | BHA OBAGI contains dry alcohol; although it is still controversial, the dry alcohol in the product makes it easier to bring the BHA deep inside. The effect is also faster. | BHA Paula's Choice contains more moisturizers, softens the skin, and does not contain unsafe ingredients such as fragrance or alcohol. |
| pH | Approx. 2.5 | About 3.5 |
| Suitable skin type | Thick horny skin, oily skin, acne skin | For all skin |
| Effective | BHA OBAGI has a lower pH, which works better for faster results. | In contrast, BHA Paula's Choice gives a slower effect. |
Frequently asked questions about using BHA OBAGI
1. What is BHA? How does BHA work?
BHA is an acronym for Beta Hydroxy Acid and is known by the other common name Salicylic Acid. BHA is an oil-based acid, so it can penetrate deep into the skin's pores to dissolve sebum (something AHAs can't do), remove rough cells for clear skin, and open pores. In addition, BHA also helps to support acne treatment, collect acne, push hidden acne and limit acne return.
BHAs are often found in cleansers, toners, serums, and moisturizers, varying from low to high concentrations. The most common concentration is 0.5 – 2%; this is a safe concentration, gentle for the skin and still brings expected results. BHA is the "savior" active ingredient for oily, acne-prone skin, rough facial skin, and large pores.
2. What color is the original BHA OBAGI?
Genuine OBAGI BHA solution is liquid-like water with a transparent light purple color.
3. How many times a week should OBAGI's BHA be used?
For those who first use BHA OBAGI, it is recommended to use it with a frequency of 2-3 times/week; after the skin gets used to it, use it up to 4-5 times/week. Those with healthy skin with few problems can use it regularly daily.
4. BHA OBAGI to use morning or night?
BHA can be used both morning and night; if your skin is healthy, you can use it twice in the morning and at night. When using BHA Oan Gia during the day, you should use a good sunscreen with SPF 50 or higher to protect your skin.
5. Is BHA OBAGI good for sensitive skin?
BHA OBAGI is best suited for those with oily, combination, and mildly acne-prone skin. With sensitive skin should consult a doctor for advice and use.
6. Can pregnant women use BHA OBAGI?
Pregnant women should not use products with BHA ingredients because they easily irritate and affect health.
7. Why does use BHA OBAGI cause acne?
When using BHA, some people will experience breakouts such as whiteheads, red pimples, or even blemishes. BHA OBAGI goes deep inside, pushing up dead cells and acne hidden under the skin, so using BHA acne will push up slowly and make the skin the cleanest.
Using OBAGI BHA with acne is a normal condition; you will encounter 3 cases: the first is who has no acne, the second is the acne appears right after 1-2 days of use, and the third will see acne appear after 1-2 weeks of use. Up to 3 months, your skin will be cleaned and pushed up all the acne.
However, if the skin has too much acne and is severe for a long time, you should visit your doctor for advice and treatment instructions.
Where to buy genuine BHA OBAGI at a reasonable price?
Currently, beauty product lines are very sophisticatedly faked, and OBAGI's BHA solution is no exception, confusing users about what is real – fake. So before buying, you need to look up detailed information on the company website, from models, colors, styles, parameters, prices, etc. And to be completely assured of the quality and price, whether you buy online or buy directly, you need to find a reputable address to purchase and use.
Final words
AHA OBAGI has excellent ingredients such as glycerin, lactic acid, and especially AHA to help skin regenerate new healthy, safe skin regeneration mechanisms with no skin abrasion or side effects. At the same time, it helps to naturally whiten and brighten the skin, inhibit aging and clean the skin. Have you used OBAGI yet? Please share your opinion about this product with us. And don't forget that all product reviews are subjective; consult your doctor before using any skincare and beauty product.
The information on this website is for reference only; it is not considered medical advice and is not intended as a substitute for medical advice, diagnosis, or treatment. When there is a health problem or emergency assistance, the reader needs to contact the nearest medical facility.