Over time, increasing age means that our skin is increasingly aging, appearing crow's feet, melasma, freckles, sagging facial skin. One of the leading causes of this condition is decreased collagen in the body in both quantity and quality. Therefore, we need an effective method to quickly and effectively supplement collagen. Currently, there are many methods to increase the skin, in which using collagen masks is one of the most trusted and used methods by many women. So what types of collagen masks are suitable? The following article will give you the top 10 best collagen essence masks today.
The effect of Collagen Essence Masks
Collagen is found mainly in the dermis layer of the skin, whose main task and function are to connect tissues in the body and stimulate metabolism. It is essential in maintaining the smoothness, elasticity, and brightness of the skin. Therefore, if there is a lack of collagen, our skin will face many serious problems such as aging skin, wrinkles, crow's feet appearing prematurely, melasma, freckles, dry, cracked skin. Therefore, many beauty brands have launched masks to supplement collagen for the skin, helping us regain bright and young skin.
Top 10 Best Collagen Supplement Masks
1. Kanebo Kracie 3D Face Mask Collagen Essence Mask
Mask of Kanebo brand – is a high-end cosmetic brand from Japan. For more than 100 years, it has created a great resonance in the cosmetic industry. The variety of items has made Kanebo famous and known by many people.
Main ingredient:
Glycerin
Country
Royal Jelly Extract
Vitamin C
Hyaluronic Acid
Uses:
Kanebo Kraicie collagen mask extracts from natural ingredients that provide moisture and increase skin elasticity, making the skin always stretchy and smooth.
The mask also contains vitamin C to help skin become more even, brighter, and smoother, in addition to collagen nutrients.
In addition to the effects mentioned above, it also plays a vital role in repelling melasma and freckles by limiting the formation of melanin pigment, balancing melanin.
It helps tighten pores and supports acne treatment.
Thanks to the ingredients derived from nature, the mask is very benign and safe. You can rest assured to use it.
The mask is a paper mask, so it is very convenient to use
User manual:
Wash your face and pat dry
Take the mask and apply it to the front, use your hands to adjust the cover to fit the face, evenly contact
Once the show is fixed, apply the mask for about 10-15 minutes.
Gently take out the front and massage to absorb the nutrients into the skin
· Rinse with water
2. Gold Bio Collagen Facial Mask
Is a type of mask from the land of Kim Chi. The main ingredients are collagen and gold that bring incredibly great things to your skin
Uses:
Helps skin stay soft and smooth in all weathers
Increase the ability to link subcutaneous tissues and improve skin elasticity
Provides moisture to the skin
Blow away melasma, freckles
Prevent skin aging
Stimulates skin's recovery
User manual:
Wash your face, then apply the mask within 30 minutes and do not need to rinse with water
Note: Unlike regular mask products, you can reuse this mask three times in 1 week. After use, quickly put the show in a bag and store it in the refrigerator to continue applying it next time
3. Dabo Korean collagen mask
This baby comes from Korea and carries the brand name Dabo – a Korean cosmetic brand belonging to Nexxen group and quality supervision by Samsung group. Products have been tested for quality and thoroughly researched to bring customers an enjoyable experience.
The main ingredient is collagen to help increase skin elasticity; help skin becomes brighter and smoother. In addition, it also helps increase the respiratory ability of the skin to help the skin get enough oxygen and maintain the skin's youthfulness.
In particular, the product is made with advanced technology combined with superior wrinkle removal technology to reduce wrinkles and crow's feet on the face significantly.
User manual:
Wash your face clean and dry.
Then remove the mask and apply the show for about 20-30 minutes. During that time you can listen to relaxing music.
Remove the cover and massage with your hands gently, then rinse with water
You can put the show in the fridge before applying it for a better feeling
4. Australian collagen mask
Collagen masks from Australia are divided into three types depending on the purpose and needs of each customer:
Silver nano collagen
This mask helps to provide essential nutrients to the skin, keeping it healthy and youthful. Collagen essence masks contained in the product helps to firm the skin. In addition to the skin, the product also supports the treatment of blackheads exceptionally effectively.
Gold nano collagen
The excellent combination of collagen and gold helps prevent pigmentation melanin formation on the skin, effectively reducing dark spots. In addition, the product also stimulates the regeneration of skin cells, allowing the skin to recover from damage.
Black nano collagen
This is an intensive product for cleansing the skin. Thanks to natural nutrients that penetrate deep into the skin to help remove dirt and excess oil, blackheads accumulated, returning the skin to a shiny and smooth appearance.
User manual:
Wash your face and dry it
Apply the mask on the front in a circular motion, leave it on for about 20-30 minutes
Lightly peel off the show and rinse with water
5. 24k gold collagen mask, 200ml big bottle
This girl is from Korea; unlike her hometown friends, she is not a paper mask but a liquid in a bottle.
Uses:
Whiten skin naturally and slowly, so it's incredibly safe for you.
Remove dead skin cells, making skin smoother.
Helps skin smooth due to skin rejuvenation
A unique thing about her is that even though it is a peeling product, it does not cause sunburn because it only removes dead cells from your face, not your skin.
User manual:
Wash and dry your face, apply an appropriate amount on your face, and spread it all over your face. Wait for about 15-20 minutes for the mask to dry, then peel off the cover gently and rinse with water. Recommended to use two times / 1 week
6. Fresh collagen essence masks
Understanding women's anxiety when over time on the skin begins to age, the Medicine brand has launched this product line.
Main ingredients and uses of the product:
Coenzyme Q10: an active ingredient that fights the attack of free radicals, helping the skin to fight premature aging
Glacier Water: This is mineral water taken from glaciers to help provide minerals to the skin
Hyaluronic Acid and fresh collagen essence masks: Hyaluronic Acid is an excellent water-binding substance that helps the skin stay hydrated, keeping the skin taut. The new collagen helps to regenerate the structure of cells, helping to reverse wrinkles and aging skin
User manual:
After cleaning the skin and using toner, take an appropriate amount of collagen and apply it on the skin, then rinse with clean water after 5-10 minutes.
7. Utena Japan Premium Collagen Gold Jelly Mask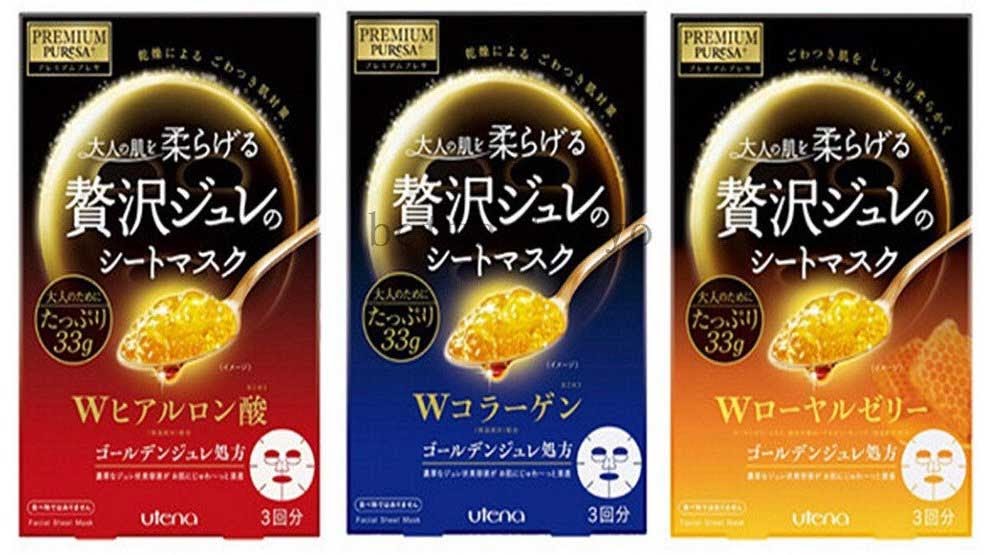 The mask comes from Japan with an extraordinary jelly form; each cover weighs 33g. With ingredients are two types of Hyaluronic acid combined with eight kinds of amino acids and collagen nutrients. The product helps to fight the aging of the skin, enhances moisture, and replenishes the necessary substances to nourish the skin from deep within.
There are two types of masks:
Utena Premium Hyaluronic Acid Gold Jelly Mask: deeply moisturizes the skin
Utena Premium Collagen Gold Jelly Mask: helps anti-aging for the skin, returning the youth to your skin
Utena mask does not contain additives such as flavorings, essential oils, alcohol, so you can rest assured to use the product.
User manual:
Wash your face clean and dry, take the mask pack and gently massage it before you peel it off so that the essence can be absorbed all over the mask.
Adjust the mask to fit the face and apply for 10-20 minutes.
Remove the mask and rinse with water.
A week should be used 2-3 times.
8. Collagen Crystal Facial Mask
The mask has brought many excellent uses for our skin with good ingredients such as Vitamin A, vitamin E, Glycerin, Green tea extract, collagen, and aloe vera. I am impressed when I use this product because I can reuse it three times a week. After using it, I will put it back in the bag and store it in the refrigerator; next time, I need to take it out and use it again. Too convenient, right?
The outstanding feature of her use is adding water to the skin, so the skin is always hydrated and becomes plump. In addition, it also helps to erase facial blemishes, increase elasticity and stimulate the skin to recover from facial injuries.
User manual:
Apply the mask on the skin 30 minutes after washing the face and patting it dry. It is recommended to use 2-3 times a week to feel an apparent change in your skin. You can see a difference in your skin from the very first use.
9. Italian 24k gold collagen essence masks powder
Unlike other collagen masks that are paper masks, this one is in powder form. Extracted from nanotechnology with 24k gold essence, it will greatly improve our skin, fade dark spots and reduce wrinkles in an extremely effective way.
In addition to the above-mentioned uses, it also helps to remove toxins from the skin, absorb sebum and excess oil on your face.
One of your special features is that it is extremely cost-effective. Compared to many other gold collagen masks, she has a lower price and can be used more times. That's why many spas and beauty salons are extremely fond of her these days
With ingredients containing ginseng and mint, when applied to your face, you will feel a very comfortable coolness
User manual:
Clean face and pat dry
Take an amount of about 15-20g of powder, stir well and spread evenly on the face
After 20 minutes take off the mask gỡ
Rinse with water
1 week should apply about 2-3 times
10. SKII Signs Eye Mask
Coming in at number 10 is an eye mask. As you all know, the eyes are the place where aging occurs very early, often in the corners of the eyes will leave wrinkles and crow's feet. Besides, with today's busy work life requires us to work very late. This will leave dark circles under the eyes. Understanding that, SKII – a high-end Japanese cosmetic company, extremely famous and prestigious in the cosmetic world, has launched SKII eye masks. The mask helps you to improve the skin of the eye area. Removes dark circles and puffiness, tightens the eye area due to being replenished with water and providing adequate nutrients. This helps to keep the eye area bright and full of life. People often say "the eyes are the windows to the soul". Therefore, keep your eyes beautiful and full of life
User manual:
After cleaning the eye area, remove the mask and place it on the eye area for about 10-15 minutes. Rinse with water after applying. Use 1-2 times a week to see results
Frequently asked questions
Should I wear a collagen mask when I'm young or not?
According to the information I have learned, beyond the age of 30, the skin will show signs of aging due to a lack of collagen in both quality and quantity. The effect of collagen I mentioned at the beginning of the article. Although you have not yet turned 30, the use of collagen masks is still very necessary. Because nourishing the skin at a young age will help you avoid aging later, why don't we take care of our skin when we are young, but wait until the skin is old to take care of it? That's why the answer is should you wear a collagen mask when you're young?
Should I wear a collagen mask every day?
Although collagen essence masks are very good for the skin, you should not overdo it. The nutrients in the mask, if applied too much, will lead to acne and weak skin. The benefits have not been seen yet, but it makes the skin worse. So you should not apply a collagen mask every day, 2-3 times a week is enough.