The famous cosmetic brand Burt's Bee is popular for its high-quality and benign ingredients, which are totally from nature. Most of Burt's Bee's products ensure that they develop natural vitamins and are suitable for all skin types. So if you want to increase the skin's health from the inside to the outside, do not forget to try at least one product from the Burt's Bee. Let's find the best toner from this brand and how to use it to make your own beautiful and glowing skin.
Introduce Burt's Bees Toner
Burt's Bees Animal Cruelty-Free Toners extracted from witch hazel and lemongrass; this natural ingredient is known for its astringent properties, treating and preventing acne while removing dirt and sebum. Burt's Bees Toner is a cooling liquid used to clean the skin and remove cosmetics, dirt, and sebum on the skin. During treatment, rose water helps tighten pores and prepares the skin well for moisturizing with cream. Up to now, Burt's Bee has released 3 kinds of toner; one named Garden Tomato Toner has been discontinued. Other toners are:
Rosewater Toner – Get in tone with your skin
Natural Acne Solutions Clarifying Toner – Clean skin clarified.
Burt's Bees have many great products, but the toner was precisely the beauty product you must have in your life. While the rosewater toner is for one who owns dry, dehydrated skin, then the Burt's Bees acne solutions toner was the last you should try. See more information in Burt's Bees Rosewater and Glycerin toner review.
Burt's Bees Rosewater Toner Review
According to the product information from its brand, Burt's Bees Rosewater Toner contains 99.9% gentle natural ingredients safe for the skin with a gentle rose scent combined with an instant skin-softening aloe. The Burt's Bee Rosewater toner is made with a botanical blend of cleansing and softening ingredients to gently remove lingering traces of face cleanser and any trapped dirt, oil, and makeup. The rosewater brings the naturally clean and refreshed.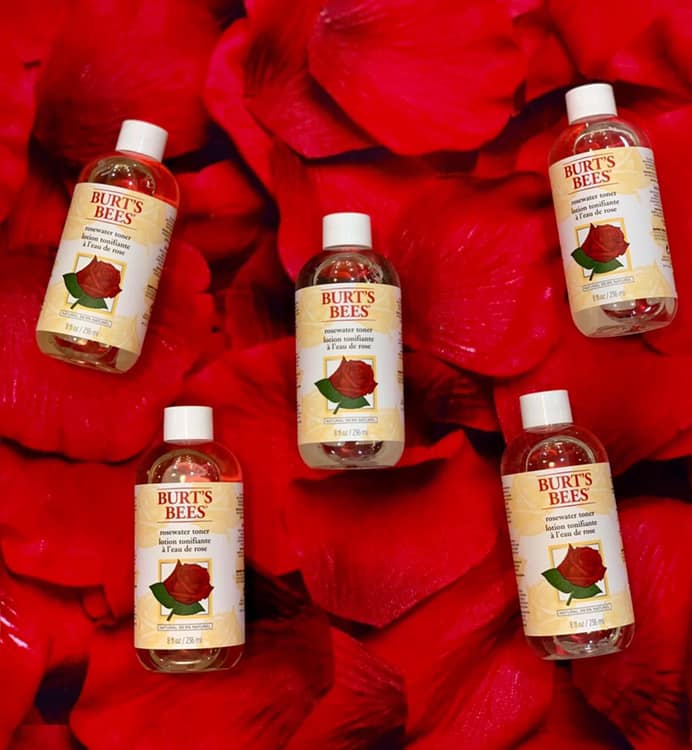 Burt's Bees Rosewater Toner 236ml helps balance skin and provides the moisture for your skin to be refreshed and glowing. The Burt's Bees Rosewater Toner 236ml is very popular by its ingredients are completely extracted from nature, bringing superior skincare effect and highly safe and benign with all skin types.
For optimal effects, do not forget to use another line in Burt's Bees' skincare collection, such as Burt's Bees Sensitive Daily Moisturizing Cream, Burt's Bees Brightening Dark Spot Corrector, etc. These kinds of skincare products appear in every store all over the world.
Rosewater for all skin types Burt's Bees Rosewater Toner 236ml is extracted from various natural fruits, rich in Lactic Acid and Glycolic Acid, helps to repel pigmentation-causing pigmentation, dull skin, and boosts the production of new cells deep in the skin, giving you glowing skin that goes with the years. In particular, the product is also extracted from white chrysanthemums in the mountains of Macedonia – a mild climate, clean water pollution-free helps soothe the skin immediately.
Besides balancing the PH on the skin, Burt's Bees Rosewater Toner also helps to shrink the pores effectively. The liquid texture of the product quickly penetrates and spreads evenly on the skin without causing a sticky, uncomfortable feeling.
Burt's Bees Rosewater Toner Review
Burt's Bees Rosewater Toner 236ml has a convenient but straightforward and firm packaging design with hard plastic material printed with vivid rose images, attracting.
How to use:
After washing your face, take a sufficient amount of product off makeup remover cotton, and gently wipe all over the face in the direction from bottom to top, from the inside out.
Use twice daily in the morning and evening to maximize the benefits.
Preservation note
Preserved in a dry, cool place.
Avoid direct sunlight.
Burt's Bees Acne Toner Review
The Natural Acne Solutions Clarifying Toner from Burt's Bees was reviewed as the best facial toner that could help to remove lingering traces of cleanser, dirt, oil, and make-up. Besides that, this toner brings the ability to penetrate pores, reduce acne and prevent future breakouts. This helps to bring the result of naturally clear, healthy-looking skin.
Final words
We hope this Burt's Bees toner review can help you understand more about this toner. If you're looking for a toner that best fits any skin tone, it significantly helps to reduce the acne aspects. Do not forget to read about ingredients clearly before choosing facial rosewater or toner; it helps balance your skin condition that could not bring other side effects.