If you guys are looking a rosewater product but afraid the alcohol, BeauUp would like to recommend you a Thayers Alcohol-Free Witch Hazel Toner. This is the best Facial Tonner that can take care for healthier and make more beautiful skin!
About Thayers
Thayers is a long-standing famous brand in the US and was founded by Henry Thayers M.D in 1847. The special thing about the company is that it only produces one item of facial toner with many different smells.
And this is a product that is very popular with beauty followers and girls because the ingredients is extremely benign with the criteria of no parabens, no alcohol, suitable for all skin types even the most sensitive skin.
Rose Thayers, niece of Henry Thayers, has invented an all-natural formula for youthful skin up to 10 years younger. In addition to the general formula, each fragrance differs from manufacturer to add extracts to meet different skin problems.
Phone number: 1-888-842-9371
Website Thayers here.
The packaging of rose water Thayers Alcohol Free Witch Hazel Toner
Thayer's packaging is a transparent plastic with a label attached directly on the bottle. The color of the label designed to suit each type of extracted ingredients.
The impressive thing is that the vintage label design is very fancy and if you want to read information about the product, you will have to read the inside of the bottle because the printed ingredients table inside, unlike other brands, is right pasted on the board. external components.
In terms of volume, this product is only 1 size is 355ml, including it is very economical but in return very inconvenient to carry when traveling.
The plus point is that the cap of the bottle is quite small. So it will ensure the amount of water enough for people whenever they want to use.
Ingredients of rose water Thayers Alcohol Free Witch Hazel Toner
Thayers Alcohol Free Witch Hazel Toner has the main ingredients that make up the product effect as:
Witch Hazel Extract: witch hazel extract is the active ingredient that many women prefer for its effective beauty. The Tannin ingredient in witch hazel is able to protect the skin from damage and regenerate, effectively cleanses the pores. And Flavonoid acts as a protective film for blood vessels under the skin thereby giving the skin a rosy, youthful look.
Moisturizes: active ingredients that provide moisture to give skin a smooth, non-flaky appearance.
Glycerin: moisturizing, regenerating active ingredient for skin to become younger.
Citric Acid: helps prevent melanin production. Ingredients are used to fade dark spots, reduce acne and whiten skin from deep within.
Aloe Barbadensis Leaf Juice (essences of aloe vera): extracted from aloe vera leaves will help support the treatment of scars, balance skin pigmentation. Moreover, aloe vera has the ability to exfoliate the skin, preventing the skin from forming acne.
The remaining ingredients are: Purified Water, Fragrance, Hamamelis Virginiana Extract (made from Certified Organic Witch Hazel), Lavandula Angustifolia (Lavender) Flower Water, Citrus Grandis (Grapefruit) Seed Extract.
In addition, different scents will be added with different extracts, common scents such as:
Rose Pental: Rose water is distilled with a gentle rose scent. With rose extract, aloe vera essence and essential vitamins will help skin to be moisturized and toned.
Lavender: Lavender extract will help skin limit oil production and tighten pores.
Lemon: This product has the ability to retain moisture, shrink pores and whiten.
Original: Natural, odorless.
Uses of Thayers Alcohol Free Witch Hazel Toner
The main ingredient is Witch Hazel (extracted from witch hazel) to help skin become glossy and clean skin gently.
Vitamin E and aloe essence are both soothing and soothing properties.
According to many review Thayers toner ph level help to balance skin after washing your face, removing any remaining dirt.
Improve the condition of large pores.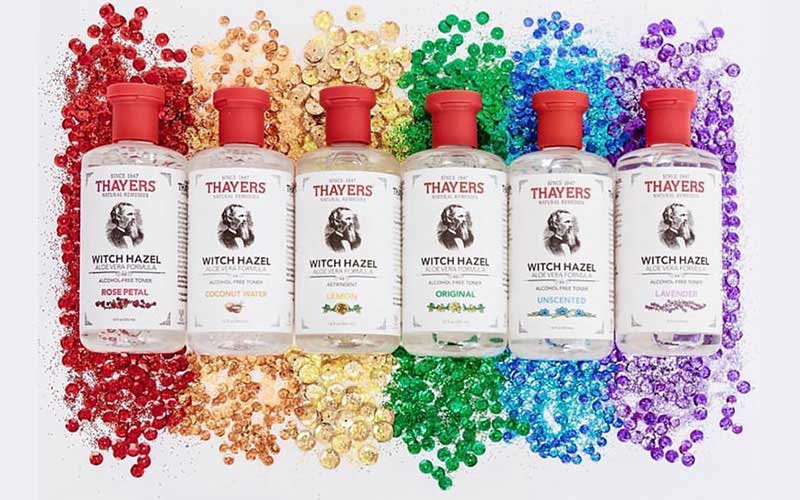 How to use rose water Thayers Alcohol Free Witch Hazel Toner
Use a cotton pad or a soft cloth to pat the skin dry after cleansing.
Then pour about 5-6 drops until the cotton pad soaked in makeup remover and wipe all over the face in the direction of the arrow going up on the forehead and neck, across the cheeks.
Frequency: Should use every morning and evening. Can be used many times a day.
Feeling about rose water Thayers Alcohol Free Witch Hazel Toner
Advantages
Before writing the Thayers alcohol free toner review I have use the Rose smell of the Thayer Facial toner. My first impression is that the ingredient list is benign with no alcohol, no phthalate, no parabens. So I think this product is suitable for those who have sensitive skin.
The second plus point is that although it has a huge capacity of 355ml, the price is extremely popular. Moreover, the product has no expiry date so you can use it for a long time without worrying about being damaged.
The third plus point is that the product has a variety of smells with different extracts suitable for different skin conditions, so almost everyone will find a specific toner for their skin.
Personally, after using almost 3 bottles of Thayers, I really like the feeling that it brings: quickly absorbed, soft skin and deeper cleanser after washing step. During the time I used it, my skin was red, burning, so I stopped all other products and just used this product, the skin felt much softer.
Disadvantages
The only downside I see of this product is that it contains Fragrance (fragrance aroma) so for those of you who are allergic to ingredients should consider.
Grade Thayers Alcohol-Free Witch Hazel Toner:
Overall the Thayers witch hazel toner review post, we could grade for this traditional rosewater with these grade:
Packaging: 5/5
Brand: 5/5
Price: 5/5
Experience and uses: 4.5 / 5
The bottom line
It's nearly to the end of this Thayers witch hazel toner review article. We hope you can choose the right and most suitable facial toner for your skin. And don't forget to leave comment or contact us for further more any beauty products review post. Thank for reading and see you in the next article.