Choosing the right lipstick for your skin tone is not an easy task. That's why we will show you girls a bunch of our favorite Mac nude lipsticks for someone who owns medium Indian skin tones. Below are the 6 best MAC lipstick for brown skin that you should consider for the year-end party.
Top 4 MAC lipstick for brown skin
With MAC lipsticks, it is hard to tell what shade they are without looking at their bottom. So the first we want to introduce to you is a shade Twig, a satin finish.
1. MAC Twig Lipstick
MAC Twig owns a satin finish. It looks very pink. It's probably the pinkest of the MAC nude collection that we're showing you today. Most girls who own brown skin tones like it because it has a satin finish. It's still quite pigmented and covers up like every Indian girl's lips colour.
2. MAC Creme in your coffee Lipstick
The next best suitable MAC lipstick for brown skin is MAC Creme In Your Coffee. This is a cream-shine finish. It's still a slightly pinky nude, but you will like the crane chin finishes because they leave a slightly glossy look to the lips. Owning MAC creme in your coffee is one of the perfect nudes for dark skin tone. MAC Creme in your coffee is also a MAC peachy brown lipstick for Indian skin tones.
3. MAC Whirl Lipstick
The next lipstick that we recommend for you is MAC Whirl. This is a matte finish. MAC released this lipstick a year ago. Now, there is a whole matte collection.
>> Readmore: Mac Whirl Lipstick Review & Swatch
The nude tone of MAC Whirl lipstick is a lovely matte shade. There are many shades of MAC nude, but MAC Whirl always makes an impression on one who has used another nude lipstick.
This MAC red lipstick for brown skin suits many skin tones. Whirl is a very subtle neutral brown with warm undertones for a matte but not dry finish. Lipstick colour spreads evenly on lips without needing to be applied many times. MAC Whirl lipstick is the most mentioned earth pink lipstick color of MAC today. Every girl of all skin tones loves this harmonious lipstick tone, which I am an avid follower of the earthy pink color from lipstick mac 626.
See more: MAC Whirl lipstick review and swatches
4. MAC Spirit Lipstick
The next nude lipstick is MAC Spirit, a satin finish. It is the best nude lipstick. When applied to your lips, MAC Spirit has a lighter shade and brings a comfortable feeling through its satin finish.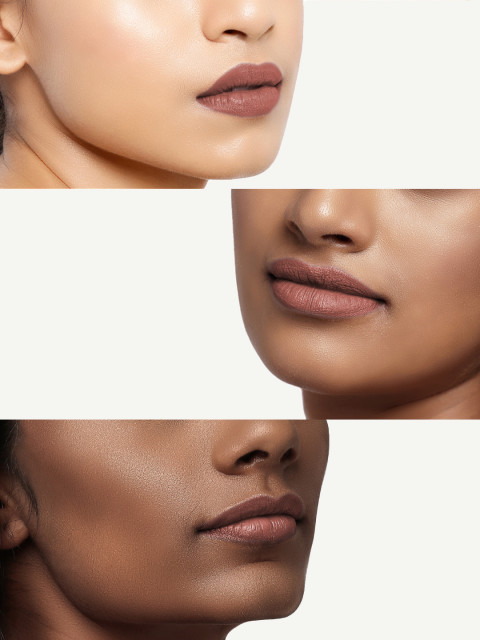 This MAC Spirit will be best mixed with other shades, especially for the red-tone lipstick.
Final words
Above are all MAC nude lipstick that might fit a girl who owns brown skin tones. We hope you guys can choose your suitable MAC lipstick shades for brown skin, and do not forget to let us know if you want us to show you another cosmetic product review. Have you owned your mac lipstick for brown skin? Please share your thought with us in the comment section below. Thank you, and see you in the following article.