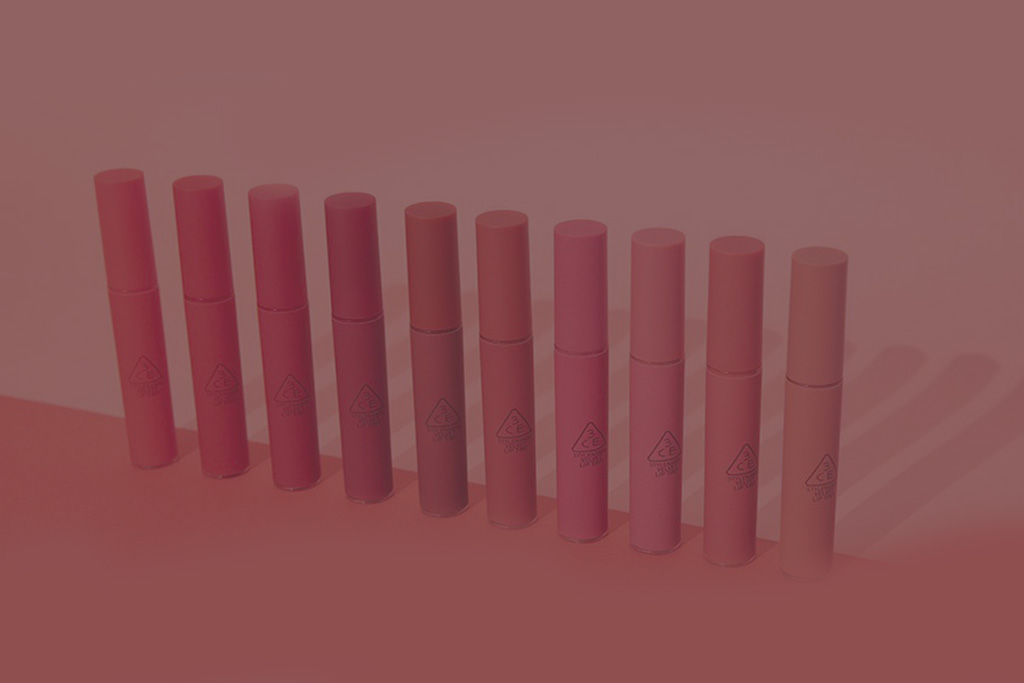 Packaging Design
3CE cream lipstick is designed simple, compact, lovely but also very Western. Similar to 3CE Mood Recipe lipstick, Velvet Lip Tint 3CE lip sticks with outer shell is the same color with the lipstick inside. The body of the lipstick has a familiar logo of 3CE. However, with this 3ce liquid lip color version , lipstick is designed differently than the shape of a cylindrical shape, long and slender, not square like the previous lip lines. Just the appearance and the 3CE brand name were enough to convince them, didn't they?
Colors
The main color tone of this 3CE version is red. Beside that the nude tone and trendy earth color – such as pink and orange nude – also included in this collection. Each tone of these velvet lipsticks has has its own personality. So it can match with different lip colors. Or you can even wear this set of 10 lipsticks of 3ce lip color in diferrent day.
3CE liquid lip color velvet version have make impression with super lipstick tint, they can bring soft lips and a pretty pleasant feeling by vanilla scent.

For those who love tint and cream lipstick, you definitely have not to miss the opportunity to own this 3CE velvet tint lipstick version. Not only because it has a "love at first sight" appearance, but with 3CE's cool lipstick, stain and famous color grip, it'll be one of your favorite beautiful lipsticks.
Let's take a look at 10 colors of 3CE velvet tint lipsticks cream and choose a suitable color for yourself.
1. #Private (cold red)
3CE Velvet Lip Tint Private have cold red tones bring with luxurious and mysterious. No matter how much red color lipsticks you have before, the Korean lipsticks believe that it's hard to find the cold red color which can make the skin more white of her skin than 3CE Velvet Lip Tint Private version.


There're 2 ways to swat this lipstick on your lips. The girl who have thick, full lips can choose to swat full lips. It'll bring a mysterious look and also extremely sexy.
On the contrary, those who have slimmer lips, can choose to swat inside the lips. So it'll look equally sweet and charming.
Red brown is one of the hardest red lipstick colors in all lipsticks. It can be said that this is one of the most unique and strange red colors of 3CE up to present time.
Taupe is the name of lipstick 3CE Velvet Lip Tint No. 02. 3CE lip color red brown is not only suitable for all skin colors but also easily combined with many makeup styles. Of course, such dark tones are easy to use for all skin tones.
For those with darker skin, don't worry about choosing lipstick 3CE Velvet Lip Tint Taupe for you to look super cool and equally attractive.
3. #Daffodil (red soil)
3CE Velvet Lip Tint Daffodil is a perfect combination of red lipstick and soil colors. Different than other colors like Private and Best Ever have look quite luxurious and charming, Daffodli brings a sweet and gentle appearance from packaging into lip color.

The highlight of this lip color makes your skin look more brightening, it was recommended for the winter season. As a feminine lipstick color but this version actually quite fit with dark skin and for who love pink lipstick color but worry it won't appropriate.
4. #Going Right
The version Going Right of 3CE lip color has "cut my heart" right at first time, it must be said that this pink orange color of this 3CE version is very beautiful and unique.
Unlike the usual orange color, 3CE Velvet Lip Tint Going Right pink orange soil is base on orange–pink. Therefore, this sweet lipstick not only brings the usual luxurious feeling of tone orange but also evokes sweetness and youthfulness.
5. #Near And Dear (earth pink)
3CE Velvet Lip Tint Near And Dear has a rather pale color just behind the orange nude color (New Nude). The soft, light of soil pink lip color is like a layer of dew on the rose wings soon to be said to like to fall in love.

However, 3CE velvet version Near And Dear own nude and bright color so it will more suitable for girls who have the bright white skin.
With who own the slightly dark or dark-skinned can choose quite a bit of earth color tones like red-brown and red-brown in this new color palette.
6. #Pink Break
I quitly love this version of 3CE Pink Break because of their lightness of pink lipstick mixed with little orange. It can be used daily, even though the color is light but still on the ultra-standard lips.

However, it looks like 3CE Velvet Lip Tint Pink Break was born for girls who have a slightly bright skin, creating a beautiful Korean makeup.
7. #Child Like (orange red)
Referring to the newly released 3CE lipstick Velvet Lip Tint, it is impossible to mention 3CE Velvet Tint Childlike lipstick, which is a striking orange-red, leather-toned, glamorous tone.
Orange red is an "daily" colors tone for every lipstick. No matter how many years passed, the lipstick color like son 3CE Velvet Lip Tint Childlike is still loved by the ease of use as well as the prominence for the chilly weather later this year.
This is the best choice of many girls, including me. This bright orange red glow is extremely strong, making it impossible for anyone to take their eyes off when we rub it on it.
8. #Best Ever (pure red)
3CE Velvet Tint Best Ever is a red tone without mixing any other color. For who love the classic, original red lipstick is made just for them.

Easy to use lip color, suitable for all skin tones. Not only can it be used for all skin types, but it also makes the skin tone and look bright. Is pure red but fresh and radiant.
9. #Save Me (neon coral)
The coral that has stood out with son 3CE Velvet Lip Tint Save Me is the neon color of coral, the radiance increases even more.
Honestly, I just rubbed a thin layer of lipstick and my lips looked immediately. Applying many layers, the lips are hot, sweet, look attractive and hard to resist.

If you love both feminine beauty and very personality, you can use this version Velvet tint of 3CE Save Me to shine anywhere.
10. 3CE New Nude (nude orange)
This is the lightest color in 3CE Velvet Tint's colors palette. The 3CE New Nude cream is light orange nude, quite trendy, modern.
Velvet Lip Tint 3CE New Nude for women who has the bright white skin, used with natural style. The medium-light skinned women can completely use it, paying attention to pressing a little on the eyes that are charming, extremely attractive. Style a beauty of celebrities or famous stars.

With dark, dark skin, it should be noted that using this lipstick will be pale and dull.
11. #Know Better (red tone with less purple and brown colors)
Not a charming red color, 3CE Know Better lipstick is a subtle blend of 3 grams of red, pink and purple that will surely impress you right from the time you swatch it on your lips.
When applying the bright red lipstick on the lips it's not too deep but just enough to make your face become attractive in the night lights of spiritual lights or romantic dates.
The absolute plus point that I have for this lipstick is she is a very strong skin color, suitable for all skin tones, even for her dark skin, she can help her become more prominent than the girls.
12. #Go Now (Pink Nude)
3CE Go Now Velvet Tint lipstick own a very new purple nude pink color, giving the girls a charming and arrogant appearance that attracts every look.
If you are a lovely pink girl and are looking for a beautiful pink lipstick that owing personality to change yourself so 3CE Velvet Lip Tint Go Now pink purple nude is the best choice for you already.

However although this lipstick is a trendy color but is more prone to cold tone, so it is easy to cause a light phenomenon for the face, so make sure to make up carefully before applying this lipstick!
13. #Persistence (purple tone)
Although we rarely use lipstick,but most of 3CE fan was "completely conquered" by the beauty of 3CE Velvet Lip Tint Persistence right from the first time they swatched it on their lips.

When applying on the lips it isn't look so deep. So if you like the gentle, sweet style, you shouldn't aplly it on full of your lips, but a liitle inside the lips is everything you need to do.
And if you want your appearance to be more impressive, just applying it skillful full on your lips.