There are always times when we need a soft, easy-to-apply lipstick color that makes our lips look fresher and natural. It is also why the MLBB lipstick has become a must-have for every girl. MLBB – My Lips But Better is an acronym used to refer to lipstick colors that are closer to the lip color but brighter; in other words, a more beautiful version of the lip color. In this article, BeauUp Magazines will show your best list of nude color lipstick for girls as well as how to pick the best nude lipstick that fits your skin tones.
How to find the best nude lipstick?
Searching for the MLBB lipstick color is not easy. If you are struggling but still can't find your MLBB lipstick color, why not try a simpler way by looking at the following list? These are some affordable lipsticks that many girls recognize as the perfect MLBB, and you will surely find at least one that suits you on this list.
Nude lipsticks you must have in 2023
1. NYX Lingerie in Seduction
The Seduction is the new color added to the NYX's Lingerie collection this year. Since its launch, Seduction has quickly become the perfect choice for an MLBB fangirl because of its reddish-brown color, similar to terracotta but lighter and more attractive. NYX Seduction is a beautiful color but is a bit dry. So if you like matte lipsticks and are looking for a western nude lip color but don't dull your skin, Seduction is the right lip color to try.
2. ColourPop Lippie Stix in Brink
With various lipstick colors up to 60 shades, ColourPop's Lippie Stix pencil collection is indispensable standard MLBB colors, and Brink is the top nude lipstick color you should try this year. Brink has a gentle, bright pink blend with brown shade with soft and natural satin lipstick. The easy-to-wear color makes this the perfect lipstick for a girl to use every day – going to school, dating, or going to work.
3. Maybelline Creamy Matte Nude Nuance
The Creamy Matte lipstick collection of Maybelline has become popular in recent years. In the vibrant color palette of Creamy Matte, the most popular lips color is the Maybelline Nude Nuance. It has been a long time since the girls have come across the beautiful and easy-to-wear brown nude lip color. When swatching multiple layers, Nude Nuance clearly shows a warm brown color of the 90s; when just swatched lightly on the lips and spread evenly, a soft brown color, a little pink, will appear, enough to make the lips look fresher but still very natural and sweet.
4. Fenty Beauty Stunna Lip Paint Longwear Fluid Lip Color – Unbutton
Not only were the products sold out all over the US, but the products from Rihanna's brand Fenty Beauty also quickly resonated in the Asian market. At the same time, this brand is also expected to overtake Kylie Cosmetics quickly. Talking about Stunna Lip Paint Longwear Fluid Lip Color, the product possesses a variety of trendy shades and has perfect color durability. Most of all, Rihanna's lipstick is in the 90s style with characteristic earth tones. Stunna Lip Paint Unbutton owns the latte coffee liquid lipstick, which seems easy to suit every skin tone.
5. Peripera Ink Airy Velvet Lipstick Pink Milk Tea (#02)
Peripera Ink Airy Stick lipstick has a pleasant, gentle scent. When applying to the lips, Peripera Ink does not give a glossy effect but brings a velvet with a soft matte and not too glossy. With the smoothness and powder texture, the Peripera Ink Airy Velvet Lipstick leaves a smooth and comfortable finish when applied to your lips.
6. M.A.C Powder Kiss 314 Mull it over
MAC Mull It Over has a coral pink tone that will be extremely suitable for girls with medium to white skin. With the powder finish, the powder lipstick collection from MAC is very smooth and does not make you feel any dryness. However, you should still apply a little lip balm to soften the lips before applying lipstick!
6. #Urban Decay Fuel 2.0
If you are looking for MLBB lipstick, you definitely cannot ignore Urban Decay Fuel 2.0. The lipstick from Urban Decay owns a nude tone mixed with a sweet peach shade. Choosing Urban Decay Fuel 2.0 for the first day of the year is a perfect choice for every makeup artist and girl around the world by the ability to bring perfect smooth lips.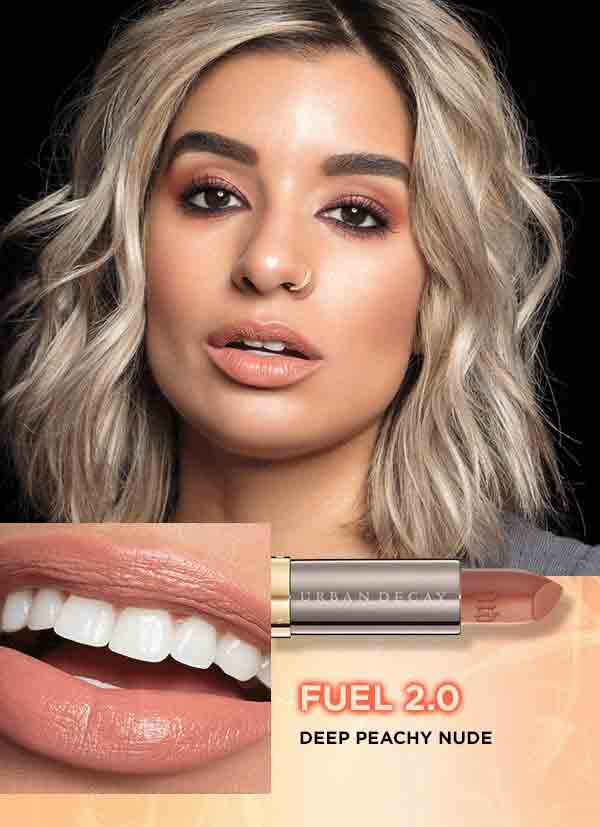 We hope after reading this post, you can feel easier in finding the perfect nude lipstick for your daily styles. Which nude lipstick that you love most? Do not forget to share with us in the comment below!