If you are a lipstick fanatic, you must have one of MAC lipstick in your daily makeup bag. With any girl, you can change your day just by lipstick. Each lipstick will have its unique experience and style. MAC Matte brown MAC Whirl lipstick is one of the most trendy lipsticks that you must try one time in your life. Let's take a closer review and swatch MAC Whirl in the article below.
Reasons to have your own MAC 626 lipstick
Brown earth tone trendy, attractive
MAC Whirl lipstick has a stylish brown color. The lip color brings a breath of natural, sensuous Western European expression that is reflected through the lips. MAC Whirl 626 brings a very attractive, luxurious, feminine and elegant look. MAC Whirl suits all skin tones, for both natural and dark skin.
MAC Matte Whirl has a smooth matte lipstick
Today, matte lipstick is the king in the lipstick world, it persists in the hearts of women because of its smooth and lightness. The Whirl Mac 626 is softness and smoothness when applied on the lips, that is why this color was used in many different make-up looks. Moreover, when you reapply the lipstick color twice, you do not have to worry about clumping or causing dry lips.
The super impressive color fastness of the MAC Whirl lipstick
Besides the impression of the light matte lipstick, the color fastness ability of MAC Matte Whirl also got high review. You can comfortably eat and drink without fearing the lipstick will pass away. The lip color still remains when you touch the sides of the cup or paper towels. MAC Whirl lipstick with color retention time lasting up to 7 hours deserves the matte lipstick that every girl should own.
Whirl MAC Matte lipstick with a simple and attractive bullet-shaped design
The bullet-shaped design "goes with the time" has become a hallmark of the MAC lipstick in general. The design honors simplicity and elegance, but doesn't lose the impression it brings. MAC Whirl matte lipstick has a mysterious glossy black layer that stimulates curiosity. With a compact body, just the lipstick makes it easy to use. The MAC Matte Whirl lipstick tip is arranged as a bevel to easily reach the corners of the lips.
The right price to own a quality lipstick
To own a quality lipstick like this MAC Whirl lipstick, you only need to spend from $21.25 for each lipstick. A perfectly reasonable price to have a quality lipstick with attractive design.
Overview about MAC Whirl Matte lipstick
Compared to other lipsticks in the MAC Matte collection, this lipstick is a good choice for girls who want to nude lipstick that are easy to wear daily and love natural makeup style.
Color: 9/10
Lipstick: 9/10
Color fastness: 10/10
Design: 9/10
Price: 10/10
MAC Whirl Lipstick Swatch
Review MAC Whirl lip liner
MAC Whirl lip liner will gently help your lips look fuller, more sexy if you have thin lips. How to draw the lip liner is extremely simple because it uses the illusion effect. You just need choosing a pencil that is the same color as the lipstick you are using, should not be lighter and absolutely not darker.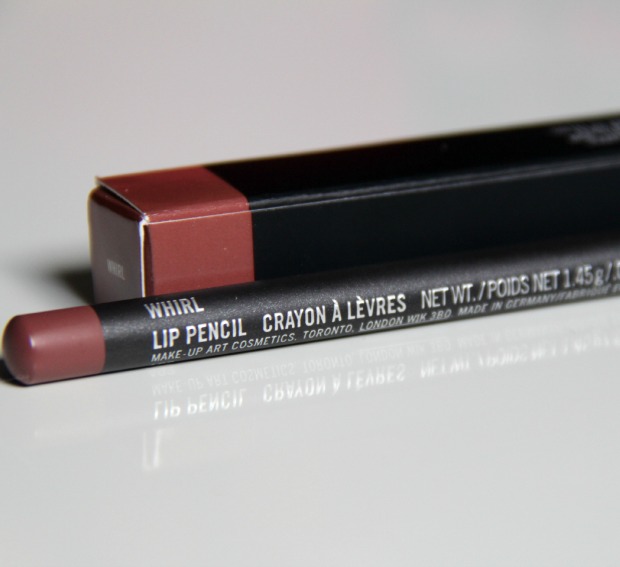 The Mac Lip Pencil remain the ideal companion of all lipsticks. Lip liner will encourage you to shape your lips and easily apply lipstick, giving you lips that are sharp and plump. Soft pencil texture, easy to contour lips with seamless lines without any uncomfortable to your lips all of the day. The lip liner tip is small and easily sharpened, giving you a slim and sharp lip contour. MAC lip liner Whirl with an extremely diverse and rich color palette that can be combined with many different lip colors.