If you are a big fan of MAC cosmetics, you should not miss the MAC Whirl Matte Lipstick – the perfectly browny shades that suit any skin tone and a best-selling MAC lipstick worldwide. MAC Matte Lipstick Whirl is one of the most trendy lipsticks popular worldwide and loved by many famous stars, including Kylie Jenner. This article will give you a detailed MAC Whirl Lipstick swatch and review.
MAC Whirl lipstick is a perfect dirty rose shade for all skin tones
MAC Whirl owns a trendy dirty rose shade that brings natural and sexy lips without drying your lips by the matte finish. MAC Whirl 626 brings a lovely, luxurious, feminine, and elegant look that suits all skin tones, especially brown and dark skin tones.
The smooth and soft Matte of Whirl Lipstick
The matte finish brings smooth and light when applied to the lips but is not dry and heavy even after applying many layers; it does not make your lips look clumping or cause dry lips.
Besides the impression of the light matte lipstick, the color fastness ability of MAC Matte Whirl also got a high review. You can comfortably eat and drink without fearing the lipstick will pass away. The lip color remains when you touch the sides of the cup or paper towels. MAC Whirl lipstick with color retention time lasting up to 7 hours deserves the matte lipstick that every girl should own.
Whirl MAC Matte Lipstick remains the attractive bullet design
The bullet-shaped design "goes with the time" has become a hallmark of MAC lipstick. The design honors simplicity and elegance but doesn't lose the impression it brings. MAC Whirl matte lipstick has a mysterious glossy black layer that stimulates curiosity. With a compact body, just the lipstick makes it easy to use.
The price for a Mini MAC Whirl Matte Lipstick is $14 and $20 for a full-size MAC Whirl, a reasonable price to have quality lipstick with an attractive design.
MAC Whirl Lipstick Swatch
MAC Whirl owns the perfect brown shade that suits those with brown to dark skin tones. You can see MAC Whirl Lipstick on the dark skin swatch below.
MAC Whirl Lip Liner Review & Swatch
MAC Whirl lip liner will gently help your lips look sexier if you have thin lips. How to draw the lip liner is extremely simple because it uses the illusion effect. It would be best if you chose a pencil that is the same color as the lipstick you are using, it should not be lighter and not darker.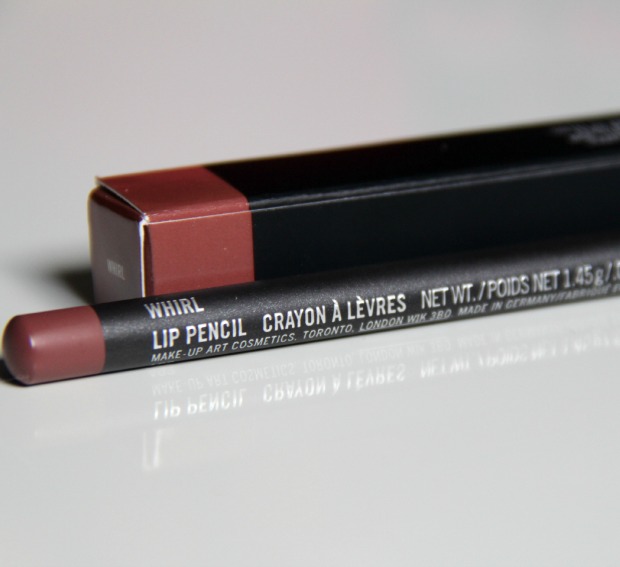 The Mac Lip Pencil remains the ideal companion of all lipsticks. Lip liner will encourage you to shape your lips and easily apply lipstick, giving you lips that are sharp and plump. This MAC lip liner has a soft pencil texture, easy to contour lips with seamless lines without discomfort to your lips all day. The lip liner tip is small and easily sharpened, giving you a slim and sharp lip contour. MAC lip liner Whirl has a highly diverse and rich color palette combined with many different lip colors.
MAC Lipliner Whirl Kylie Jenner
In mid-2016, Kylie Jenner revealed that MAC Whirl was her fave lipstick because its dirty rose shade looks great on all skin tones. After the confession of Kylie Jenner that her guess had come true, the MAC Whirl sold out and became popular worldwide in a short time.
But in reality, Mac Whirl Matte Lipstick is good with its shades and texture in lipstick and lip liner products. This MAC lipstick shade help to make lips look bigger and own the perfect nude lipstick color. Let's see how perfect Kylie Jenner's lips MAC Whirl is in the image below.
MAC Velvet Teddy and Whirl
MAC Velvet Teddy and Whirl are the best nude shade lipstick that perfectly suits brown and dark skin tones. See MAC Whirl and Velvet Teddy swatch below.
MAC Whirl vs Twig
When comparing MAC Whirl vs Twig, we can see clearly that this lipstick belongs to two collections. MAC Whirl Matte Lipstick and MAC Twig Satin Lipstick can show glossy and nurture your lips. See MAC Whirl vs Twig swatch below.
MAC Soar vs Whirl