Lancôme is a high-end cosmetic brand from France famous for cosmetic and skincare products. With various high-end skin care products, Lancôme toners are the best choice for those who want to find a safe and effective product for their skincare routine. This article will help you have more information about Lancome Toner Pink vs Blue, the best toner you need to try this year.
Overview of Lancome's toners
Lancome is a luxury cosmetics brand from beautiful France, established in 1935. The brand name was inspired by the ruins of an ancient castle Le Château de Lancome, and the beautiful roses around the castle inspired the symbol of Lancôme. Lancome introduced its first products to market with seductive fragrances, which quickly created a big buzz and became famous in the beauty industry. In 1964, the brand was acquired and developed by L'Oreal Group. Its products are extremely diverse, from perfumes and makeup to skin care.
Lancôme Toner Pink vs Blue review
Below are three best-selling Lancome Toners that were loved and received many good reviews from beauty bloggers worldwide. See more Lancome toner review below.
Lancôme Tonique Douceur Softening Hydrating Review
Possessing a luxurious design with a transparent blue bottle (that's why people usually call this product with the short name Lancome toner blue) helps to see the amount of toner inside; Lancôme Tonique Douceur Softening Hydrating has created an impression on customers of a fresh and gentle feeling.
The Lancôme Tonique Douceur ingredients include Sambucus Nigra, which cleans and adjusts pH in the skin, helping the skin absorb nutrients better and more comprehensively in the next skincare steps. Besides, the essence extracted from Sambucus Nigra flowers in this toner contains compounds such as rutin and quercetin, which have been shown to have effective antioxidant, antiviral and antibacterial properties, very useful for infected skin. Benefits:
Balance moisture, PH for skin, deep clean
Shrink pores, prevent oil, and exfoliate the skin
Help the following skin care products maximize their effects
Can be used as makeup removal.
The plus point is that the product does not contain alcohol, is safe for sensitive skin.
Lancôme Tonique Confort Re-Hydrating Review
Lancome Tonique Confort Re-Hydrating comes in a pink plastic bottle that is very gentle and feminine. The product texture also has a light pink color and a sweet and gentle scent of honey, and the texture is quite dense.
The Lancome Pink Toner's main ingredient is a blend of Acacia honey and Sweet almond oil. The Lancome pink toner is very effective in soothing and hydrating the skin, which helps to bring smooth and firm skin after using it regularly.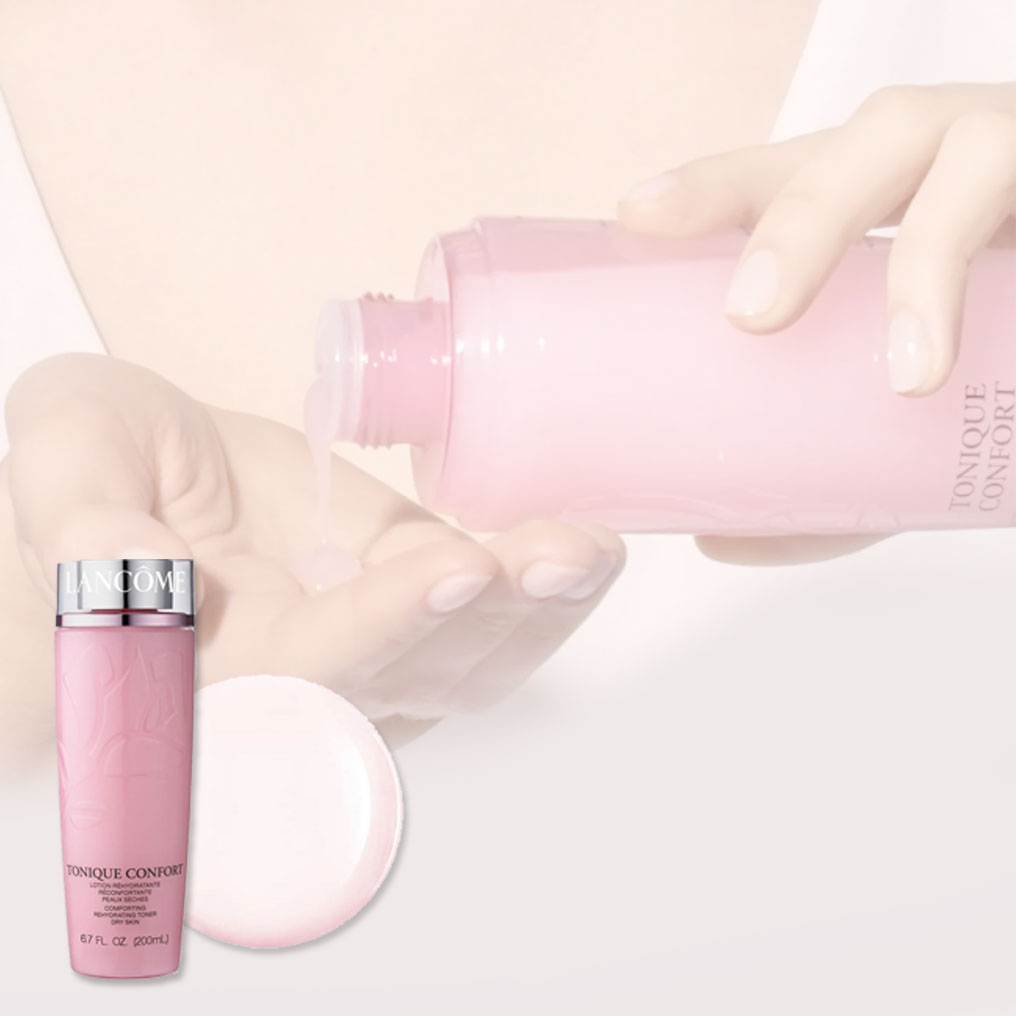 Lancôme Tonique Re-Hydrating Comforting also specializes in moisturizing effects. This toner is extremely suitable for those with dry and damaged skin. Or, if you have dry, flaky skin, you should add this pink Lancôme Toner before other skincare steps to help your skin rehydrate effectively. Benefits:
Balance the moisture and pH of the skin after washing your face.
Clean, provide abundant moisture and soothe the skin immediately.
Adds essential nutrients to the skin, cleans, and brightens.
Comparison Lancôme Toner Pink Vs Blue
The Lancome Toner Blue (Tonique Douceur) has the perfect combination of Sambucus Nigra flower and Rose and special nutrients such as Vitamin A, vitamin C, quercetin, and rutin, which are mainly effective antioxidants that help to repair damage and return to the most firm, healthy skin, etc. Lancome pink toner (Tonique Confort) specializes in intensive moisturizing effects, extremely suitable for those with dry and damaged skin.
How to use Lancome rose water with high efficiency?
Using Lancome Toner is quite simple, like other toner products. First, you put sufficient rose water on a cotton pad. Then gently massage your face from the inside out. From bottom to top to avoid sagging facial skin and remove impurities, makeup, and dirt left on the skin.
If you do not have a cotton pad, you can use the palm of your hand to massage your face. Gently press your hands to your cheeks, then to your chin and forehead. Then gently pat the skin to allow the nutrients to penetrate deep inside. Remember to wash your hands before doing this.
Does Lancome Toner have alcohol?
Depends on your product. There will be alcohol-based toners or none. Some Lancome fragrances without alcohol are: Lancôme Tonique Radiance, Lancôme Tonique Douceur,….
You can also safely use alcohol-based products. Because the company's ingredient list always commits to using an amount that does not exceed the standard. So it's quite safe for any skin type.
Which is the best Lancome toner?
All Lancome products meet quality standards. However, not every type will bring the best results for you because it will depend on your skin type, conditions, problems, and how it needs to be fixed.
Lancome brand with the criteria of producing and developing products suitable for oily, sensitive skin, etc. That is why Lancome toners are popular worldwide. Besides, Lancome toner also has outstanding advantages that no one can justify, which are:
Healthy, safe, gentle natural ingredients
Must pass the inspection stage and ensure quality and safety before being released.
Easily absorbed, quickly absorbed
The product receives a lot of good feedback because of its effectiveness for users.
Therefore, if you intend to find yourself a bottle of rose water, Lancome rose water is a great suggestion that you should consider.
We hope this Lancome toner review article brings you some helpful information about Lancome toners, especially the difference between Lancome toner pink vs blue. Hope you have chosen for yourself a satisfactory product.