MAC Sin vs. Diva lipstick is two best-selling dark red lipsticks of the MAC Matte Collection. Both of these lipsticks own dark red with a matte finish that could be long-lasting for up to 24 hours without eating or drinking. The Mac Matte Lipstick has a matte finish and a bit of nourishment, so it could make your lips soft all day without bringing any dryness. So what's especially in MAC lipstick Sin vs. Diva, and which is the best suit for your skin and hair tones? Let's find out through this article.
MAC Matte Lipstick Collection Overview
Mac Matte Lipstick is a lipstick collection that generates massive revenue for Mac. Beauty bloggers appreciated this matte collection more highly than the Mac Retro Matte line, even though the new Mac Retro Matte is the classic Mac lipstick.
Mac Retro Matte lipstick is super-class that can stick to intense colors. But it has almost no balm, making lips dry, and for those who are lazy to care for their lips, the Retro Matte of MAC will bring a bad experience. The Mac Matte Lipstick collection is different; it is still matte but has a bit of nourishment that will not make your lips too dry. So for those who love matte lipstick but are afraid of dry lips, you can consider using Mac Matte Lipstick instead of Retro Matte.
MAC Matte Lipstick Colors
The collection of Mac Matte Lipstick has 18 tone colors, divided into different warm and dark tones. No less than a tone is classified as a classic, almost always sold out. If you want to know which colors are available, please see more details in the picture below.
MAC Lipstick Sin vs Diva Review & Swatch
MAC Diva lipstick
If you go to the cosmetics shop and ask to buy a dark red or cherry lipstick, there are high chances you will get the same answer: MAC Diva. This is one of the deepest red lip colors but also the most iconic of MAC. Lipstick Diva MAC is a classic wine-red color combination of red and purple with matte lipstick but does not cause dry lips. This is the indispensable lipstick color of the fantastic and mysterious girls.
Mac Matte Diva has a red mix with purple shades, so the color is a bit deep but very fancy as you look at it. However, not everyone is willing to use this dark lipstick shade. It is suitable for girls seeking a beautiful but noble personality style. Mac Matte Diva enhances skin tone relatively, ideal for all skin colors, even blacks like Africans can still use Mac Matte Diva is strong enough to burden your lips to stand out.
MAC Sin Lipstick
Mac Matte Sin is a plump red, looks stylish, and is suitable for all skin tones. However, the Sin MAC's appearance is a little bit strong personality, not the color for a girl who loves gentle or lovely style as this dark red shade brings your lips a bit deep, like vampire's lips. However, many professional models love the color of Mac Matte Sin to make their faces more depth, stronger, and more luxurious.
MAC Lipstick Sin vs Diva swatches
Most people can not distinguish between the color Sin vs. Diva MAC and the Cherry one in the Mac Matte lipstick color palette. All three tones are deep red, of which the Diva color is more orange, Sin is darker, and Charred Red is a bit lighter. Mac Matte Charred Red is not picky, has fair skin and whitening teeth, can be used on all occasions, has deep color, and makes pretty outlooking. Compared to MAC Sin, most girls prefer to use this plum color.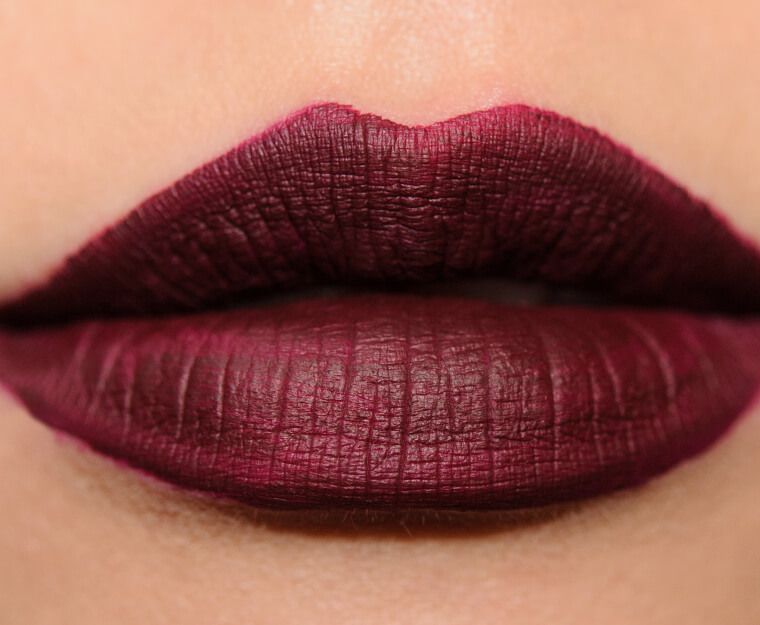 MAC Sin vs Diva on Indian skin
In conclusion, you can easily find the buyer review about these two favorite MAC lipstick by dropping by Amazon store through our link below. Do not forget to share your thoughts about these dark shades of lipstick.
Conclusion
In the end, if you love the dark cherry lipstick that still owns a little pink and lightly. So MAC Diva could be a better choice. MAC Sin lipstick can make you look more attractive and fancy if you love gorgeous lips or have medium to dark skin. What do you think about MAC Sin vs. Diva lipsticks? Do not forget to share your ideas by commenting below.